Author Visits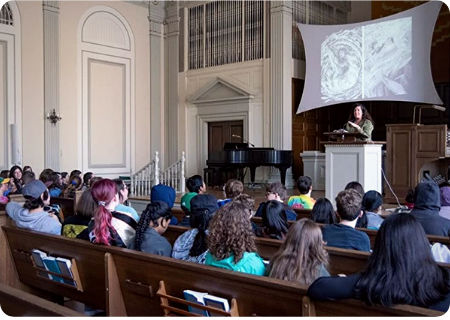 Katherine loves to share poetry and prose with budding writers! She is a writer, editor, and educator who has mentored young writers for decades, having taught at Idyllwild Arts Academy, Interlochen Arts Academy, and in summer programs.
Katherine is always happy to speak with your students and is available or in-person or online visits. She can tailor her presentations and workshops to suit your needs and is also available for virtual visits.
Her Presentations Include:
WORKSHOPS
Intro to Poetry
Fun with Fiction
Personal Essay
How to Write Interactive Fiction
Fairy Tales
Mythology
Writing about Place
Music as Literature
Hybrid Forms
Writing and Art
ONLINE CLASSES & CAMPS
Creative Writing Club for Kids
Writing SPIES
Writing Choose Your Own Adventure
To Book an Event:
Katherine is currently available for school, library, and virtual events. Please email her via her contact form for availability and rates.


Testimonials:
"We appreciated your enthusiasm in sharing about Choose Your Own Adventure books with our students. Over 200 of our middle school students participated on zoom and more watched on YouTube. They enjoyed hearing your reading from the Spy for Cleopatra book. You've inspired future authors by answering their questions about the process of authoring books in this genre and providing a template for them to create their own stories." – Alicia Johnson, School Counselor