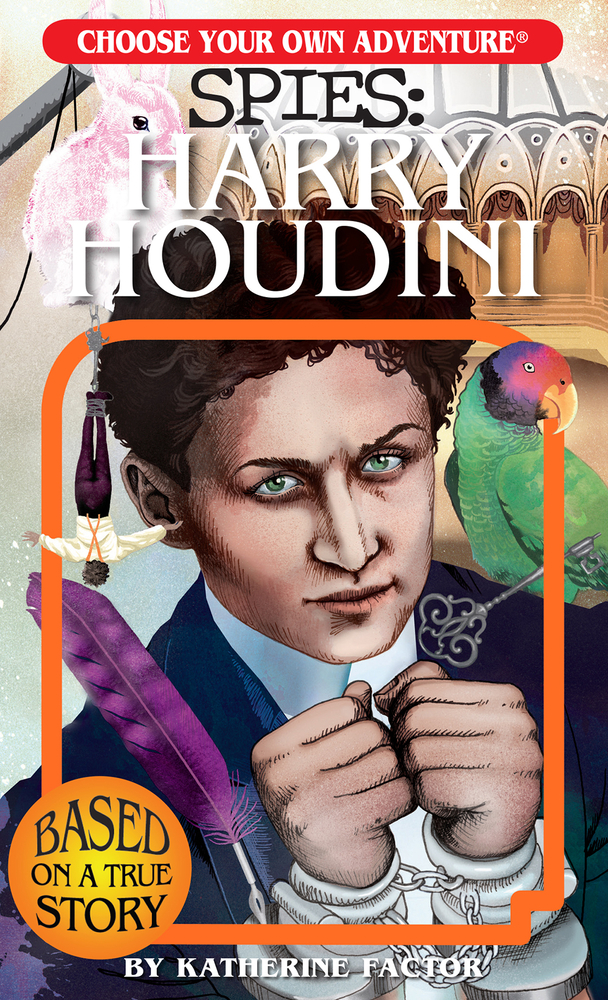 SPIES: Harry Houdini
A Choose Your Own Adventure Book
Published: 5/1/2020
Choose Your Own Adventure SPIES: Harry Houdini by Katherine Factor puts YOU in the shoes of America's first famous magician, Harry Houdini, also known as "The King of Cuffs." 9-12 year old readers will enchant audiences across the United States with death-defying stunts, live escapes, and thrilling face-offs with local police.
Choose Your Own Adventure SPIES: Harry Houdini is an interactive adventure book in which YOU decide what happens next.
You are a famous magician. You are known to challenge local police to defy your skills by locking you up. Reporters follow this story, and so do jealous rivals. But one follower of your magic act has a serious request: with all of your sleight of hand and intelligence, will you, Harry Houdini, the famous magician, become a spy to learn information abroad and help the United States?
For readers who enjoyed other titles from the Choose Your Own Adventure SPIES series, including: James Armistead Lafayette by Kyandreia Jones, Mata Hari by Katherine Factor, and Noor Inayat Khan by Rana Tahir.
Praise for SPIES: Harry Houdini
"Magical adventures... Don't let this book escape you!!" - Jose C
"Our 4th and 7th graders read this book together and had so much fun choosing the different paths while learning about Houdini!" - Susannah F.
"A hit at the library!" - Karen, Walton Library
"I used to love reading these books when my children would check them out from the library and this one, was no exception. I choose my first path through the book, based on what I'd want to do and then, I went back and reread the book a few times, choosing paths that were totally different. I was Harry Houdini, a magician with big dreams!" - Live O.
"I am a CHOOSE YOUR OWN ADVENTURE nerd. ...this continuation of them is excellent. It's super fun and I got to come back from the dead which I don't think ever happened during the older series." - Kales
"Great combination of facts and adventure. Katherine Factor provides enough information to make you want to check out every one of the options. Partway through reading the book, I was already delving into online resources to read more about the facts she was weaving into the story. The spy series of Choose Your Own Adventure books reveals the intriguing history of undercover work. This was my second purchase from the series, and I'm eager to read more." - Sherry H.